Friday night after work Marine and I went to the pub for diner and a beer (
YUM
). Then in our typical date night fashion, as of lately, we took a trip to Lowe's. We needed another gallon of red paint along with a few other things....
And then our big Friday night consisted of me taking my online final. Another class down!! I am one class away from getting my Website Design Certification. But truth be told this last class I just did enough to scrape by since things have been so hectic. I'm going to wait till after the honeymoon and things have settled down before I take the last class. And I plan on going back over my notes from this previous class and
reall
y learning it once things settle down.
Saturday was so much fun!!! Marine, Marine mom & stepdad, my mom and I had a fantastic day! We went to several estate sales --- I had never been to an estate sale before.... they are very interesting! One man's junk is truly another man's treasure!!
Marine and I came home with a few treasures that I will be sure to post pictures of later. I know I should have already had them to put in this post, but lets face it I had to much fun this weekend to pause to take pictures!
Sadly but true
. The picture fanatic in me surely has been a slacker lately for some reason!
Ok I can't stand it, I have to share! So here are a few Blackberry Pics (
love the phone but the camera sucks
).
First up I thought I had hit the jackpot when at the first Estate Sale I see a table with 2 large mason jars. I am getting all the jars for the wedding from Marine Mom's canning stash. But all of her's are the medium size quart jars. I have been looking for a few large jars to use as centerpieces on the food tables. I have been looking on etsy and ebay for these and guess how much the cheapest ones I found were? $16
before
shipping. Outrageous, right?! Of course you know I wasn't going to pay that...... but I was more than willing to snatch up two for $2 each.
And yes that is my treasure box in the background
.
This beautiful dish cloth also caught my eye. Call it crazy. I know. But for some reason I just fell in love with it knowing that it would look perfect hanging up in my red kitchen above the sink next to the window. Just wait and see it will add a great decorative flare to the kitchen. Even if it doesn't it gives me something pretty to look at while I wash dishes........
Marine and I bought several other things that I will post pics of later. We left for a box full of stuff and spent less than $25.
At the last sale I found several things I wanted. They were priced a little higher though and I am all about bargain shopping. But I was able to bargain a little and was able to get this soon to be beautiful piece thrown in for free :)
I loved the design on this old door knob. I'm wanting to collect a bunch of random knobs and make a coat hanger something or similar to this:
Or I may paint it and put it on mine and Marine's bedroom door.
For the first time in my life I may actually be in style! *Gasp* Hey, I know it shocked me to. I have very little fashion since..... I like to lie to myself and think I do but really I don't. Shirt and Jeans. That's my style.
I love vintage decorations. And think about the word vintage for a minute. I love that word cause if you think about it it has so many meanings. I typically think vintage as in early 1900's to maybe the 50's. Others may think of different time periods.
My favorite score of the day though was this Graflex 22 camera.
It needs a little cleaning and polishing but I love it! I have several cute ideas for it..... but in the end I plan on putting it on my picture table. I think it will be a nice decorative piece. Plus a fun prop for a few photo ideas I have.
Here is what the camera looks like opened up: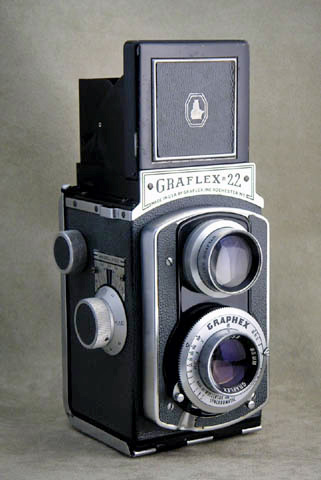 Taken From Google Images
Yep it was my favorite find of the day. I was grinning from ear to ear upon finding it piled under a bunch of junk. I think Marine could tell also because he says that I don't show excitement very much, especially over something that isn't a horse.
For a late lunch we ate at a wonderful restaurant called The Boathouse. It was wonderful! I had Voodoo Chicken that had a little kick to it. Everyone seemed to have a great time. I enjoyed spending the day with our parents. Our mom's have definitely hit it off and have a lot in common.... They especially like to remind us (when they are together) they are ready to be grandma's. And they aren't subtle. Other than that though they a quite the hoot.
Marine Step-Dad tells them they are like hens cackling because they laugh so much. That makes me happy though. It's great to see my mom smile.
Saturday night Marine and I fought the urge to go home and crawl in bed but instead went out to meet up with Marine's best friend Ford and his wife.
We met them to have a drink with them while they ate diner - we were still full from our late lunch. After diner they suggested we go for a drink. The night was still young so Marine and I agreed.
One drink, turned into two, two turned into three..... and well you see where this is going. Ford wife and I drank way to much as we chatted and the guys visited. Our early night turned into walking in the door about 1 am. But it was a great way to end such a fun day.
I definitely owe Marine a night as D.D. though ;)
Sunday we worked awhile and then went on a trail ride with Mom. It was a beautiful day and we couldn't have asked for better weather.
Overall I think Mom and Marine both had a wonderful Birthday weekend!
Oh I almost forgot!!! At a last stop on the way home Saturday Mom wanted to stop at this store to look at bathroom vanity's and Marine and I found a couch. Things are coming together slowly but surely! Couch picture coming soon.
Phoebe, "You bought your sheets at a flea market? Come on, Ross, you gotta loosen the purse strings a little!"
~ Friends ~